Poptop lift assist struts installed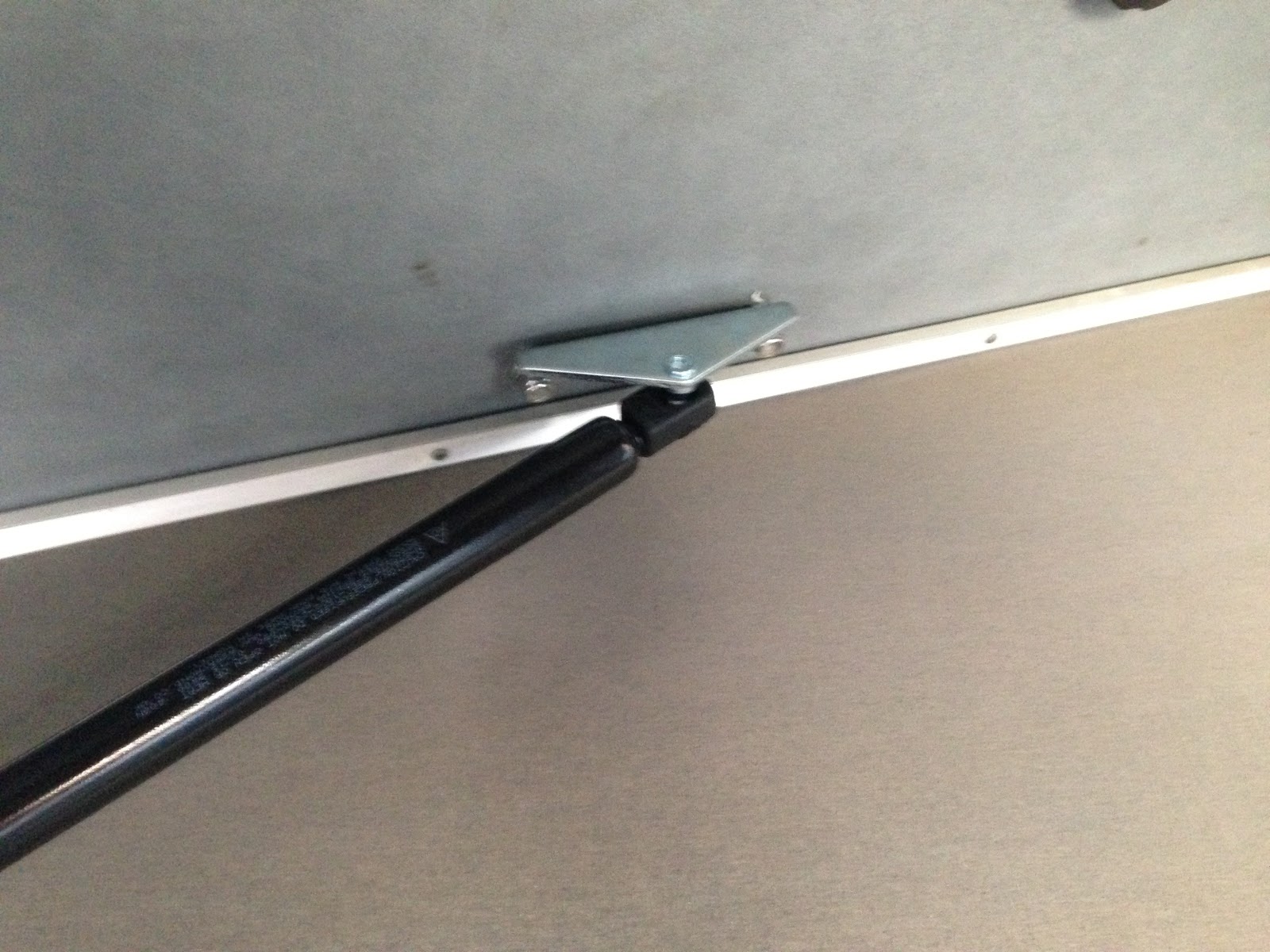 I recently purchased a Thule Evolution 1800 cargo box from Craigslist in order to store/carry more stuff when camping/road tripping.
With the added weight on top, I decided to purchase the GoWesty poptop lift assist kit to make opening the poptop easier. http://www.gowesty.com/product-details.php?v=&id=24205
The kit arrived, and I was eager to get started. The instructions were a bit lacking in detail. The first issue I hit was regarding drilling a hole for the mounting brackets. Instructions state to place the bracket just in front of the existing rear hinges, yet there is a rivet there. I was able to find just enough surface to set it, mark, and drill. FYI – a small starter hole with a drill bit is helpful rather than solely relying on the self tapping screw.
But, on the first drill I went through a layer of metal and then hit another one below. Not knowing if this was meant to be, I decided to stop. I called and emailed, and then received a callback the next day.
GoWesty checked another Weekender and admitted that there was a rivet. He said I could drill it out, but he also said that the second layer of metal below is normal. Thus, I decided to leave in the location I chose. I drilled the remaining rear mount bracket holes and installed them with the provided self tapping screw.
Next, I attached the struts to the balls on the installed mounts and to the front ball mounts as well. Then, with the poptop up, I marked where the front mounts should be installed (the struts come extended, and are nearly impossible to compress by hand which I confirmed with GoWesty, I wasn't sure about this cause I thought that maybe they'd compress and lock for smaller shipping packages… not the case).
So knowing that the struts were at full extension, I drilled and then inserted the bolts/washers from the top. Then, I went back inside, and I was able to thread the nut/washer and hand tightened. Next, I gently closed the poptop for the first time with the struts lightly secured. Now that the top was down, I was able to hold the nut on the inside of the EV while reaching on top with a socket to tighten.
I tightened to a light torque on just one bolt with the 2nd front bolts hand tightened. I still need to get some silicone to seal the outside bolt/washer as advised by GoWesty.
I opened and closed the poptop several times. I'm quite impressed by the amount of lift assistance this provides. I'm eager to load up the Thule next.
Almost done… just need to hit the hardware store tomorrow for the silicone and then final tighten the bolts.