Tires
I've seen so many tire thread on multiple forums.  It is overwhelming and confusing, especially when some tires people are talking about aren't available any longer.
Please take this Tire Survey to share what tires you have on your Eurovan and see the results (coming soon) of what others are running (as well as tire pressure, model of van, etc.)
See a summary of the Results here , the spreadsheet of responses here, and below for top 5
Also, have you taken the Eurovan Owner Survey? or the Poptop Rack Survey?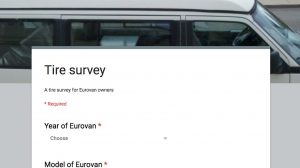 ---
Overall top 5 tire options (TBD, will be broken down for more specific recommendations based on model).
Nokian eNTYRE
Kuhmo Road Venture
Michelin Defender
Continental Vanco
BF Goodrich AT KO2